Carrier Boilers
The perfect heat source for your home's radiant system, innovative Carrier gas-fired boilers deliver consistent warmth without the noise and draft associated with forced air systems. The higher the AFUE percentage, the more energy efficient.
Comfort 80 Boiler
Traditional Gas-Fired, Cast Iron Radiant Heat Boiler
Model: BW2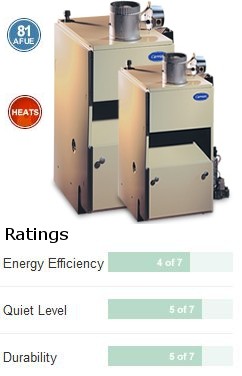 The Comfort 80 Boiler is just what you'd expect with traditional Carrier quality: cast iron exchanger and gas-fired. Our advanced engineering keeps your bills low, with up to 81.5 AFUE rating.
Up to 81.6% AFUE

Cast iron heat exchanger

Gas-fired models

Water or steam models

Standard standing pilot or optional electronic ignition

Electric vent damper

Stainless steel/titanium alloy composite burners

Compact design
Model: BW2
---
Performance
Efficiency
Up to 81.6% AFUE
Rated Heating Input
37,500 – 280,000 BTUH
Rated Heating Capacity
30,000 – 226,000 >BTUH
Heat Format
Water
Limited Warranty
5-year parts limited warranty when properly registered; 20-year parts limited warranty on heat exchanger section
Controls
Control Type
Integrated boiler control
Technology
Heat Exchanger
Cast Iron
Burners
Titanium Composite
Ignition
Electronic
Vent Damper
Automatic
Fuel
Gas
Aesthetics
Casing
Full Fiberglass Insulation
Nipples
Cast Iron Push
Dimensions (inches)
11 – 27 1/4″