Clarkstown Thermostat Control in Rockland County NY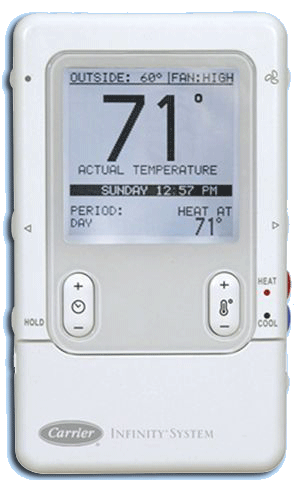 Clarkstown Heating and Air is committed to providing Carrier-quality comfort to Rockland, Westchester and Bergen Counties. Whether you've got a heating or cooling need, want to improve your indoor air quality, are looking for a zoning solution or just want to lower your energy bills (or all of these), there's a perfect thermostat for you.
Carrier offers a full line of electronic thermostats to provide optimum comfort for all types of homes. Attractive designs, large, easy-to-read numbers, backlit displays and simple programming are just some of the features that make Carrier thermostats the best choice for controlling your home.
Call Clarkstown at (845) 620-1000 to learn more about these great products.
Carrier controls and thermostats
To easily manage your home comfort, we offer a wide variety of highly engineered thermostats by Carrier. Whether you're looking for a wireless thermostat for optimum zoning, a highly programmable thermostat to keep your energy use on a schedule, or ease of use with features like touch-screen, Carrier has a quality product for you. Though the features in each t-stat vary almost as much as the people who use them, you can be sure you'll always get Carrier quality and reliability no matter what product you choose.
Clarkstown Heating and Air Recommends:
Carrier Infinity Control: Carrier's revolutionary home comfort control with optional zoning and remote access.